This is an incredibly difficult time for everybody to get through and everybody is requesting immunity boosting tips for Covid-19. I realize that most of the world is being overtaken by fear and anxiety and unfortunately those are probably the two biggest threats to our health. We can take all the precautionary measures of staying home and practicing social distancing, but unfortunately, those things aren't going to help us combat negative emotions. If, while we are staying home, we are glued to the news and obsessed with watching the charts and graphs continuing to rise indicating more and more infections, we are just setting ourselves up to lower our own immunity.
I realize that it's very difficult not to obsess over this terrible situation, but I can tell you this . . . All the obsessing and worrying is not going to help the situation. Before I get into some specific energy medicine things you can do to help boost your immune system, I want to share a couple of resources that others have made available.
First, I want to share a video from everyone's favorite mindfulness guru, Deepak Chopra. The title of this video is "Emotions Are More Contagious Than COVID-19." The video is 25 minutes long, but I really urge you to take a break from the world news and watch this instead. It may be the most important thing you do today!
Now that you've got a grasp on how important emotions are during this pandemic, it's time to focus on gratitude, forgiveness, joy, etc and our energetic entanglements. It's time to become responsible for the energy we are putting out into the Universe, as well as be vigilant about what we decide to expose ourselves to. It's a choice that you make. You can choose to put your awareness on whatever positive thing you can find. And how can you do that? In one word, meditation.
I have a list of immunity-boosting tips, but I'm going to start with the most important one. There is nothing more powerful you can do to boost your immunity right now than to set aside some time every day for meditation, where you can focus on gratitude. There are many free resources online for guided meditations on Amazon music, Youtube, etc. If you can't find or don't want to use guided meditation, just sit quietly and focus on deep breathing. Every time you take a deep breath in, mentally say "I am grateful for my health." Breath out, and then on your next deep breath in, come up with another thing you are grateful for. Just repeat this process and please know that you can be grateful for things that have not even happened yet. For instance, you can be grateful for "The Covid-19" virus subsiding in my city, state, country, the world."
Another great resource is to utilize an energy psychology tool called tapping. It's easy to do and very powerful. This is probably one of the most powerful energy medicine procedures that you can do for yourself, right at home, without the need to really understand how it works. Just do it!

The Tapping Solution is a great website that offers a mobile app that includes instructional videos that you can follow. They have recently made some tapping meditations specifically designed to help relieve anxiety available for free, but you must install their app to use them. Just click the button below for more information: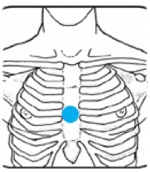 The next best, quickest, and easiest immunity boost is thumping your thymus. This really gives a boost to your immune system. Using all of your fingertips or knuckles of one hand, tap or thump vigorously in the middle of your chest (as shown by the blue dot to the right) while taking 3 deep breaths. Do this several times a day, as often as you can. Don't underestimate the power of this one point!
Here is a new immunity boost that I just learned. It is related to "grounding." Remember, grounding is key to good health. We must stay grounded to the earth in order to stay healthy. It is our foundation! For a refresher on things to help get you grounded, click here. To do this new exercise:

Activate the Earthly flow of energy from beneath you by stretching your arms straight down and pointing both hands downward to beneath your feet. Focus your attention about 3 feet below the ground.
Breathe in and mentally pull the energy up from the ground and into your feet and legs. Imagine it traveling up your calves, knees, thighs, hips.
Follow the motion of this energy with your hands and as it enters your central column through the midline of your body. Raise both hands (fingers pointed towards the ground) to be level with the energy as it rises up. When your hands/energy are at the level of your Crown Center (top of head), point your fingers upward as your arms stretch up and hands ascend above your head.
When your arms are at full extension, with the fingers of both hands above your head pointing up, move your arms down around your sides of your body, pointing outward. Keep your arms fully extended and bring your arms back down to your sides.
At the bottom of the movement, your fingers are pointing to below your feet – where you started the exercise. Repeat the complete movement, bringing the energy up from the ground, to over your head, and sweep it down your sides for 7 complete cycles.
Now for something totally different and impossible to explain. Just keep an open mind and know that you have nothing to lose by giving this a try. Please know that I believe 100% in the magic of something called "Biogeometry" and I am throwing myself completely into studying more about it. I can't even begin to explain it here now, but if you want a serious boost to your immunity, just click the button below and print out the PDF file that will open. (Be sure to hit the BACK button after you either saved or printed the file to return to this article.)
Then print out and cut out a small photograph of yourself and tape it to the center of the printout. Make sure it fits in the middle and doesn't cover any of the symbols (as shown below).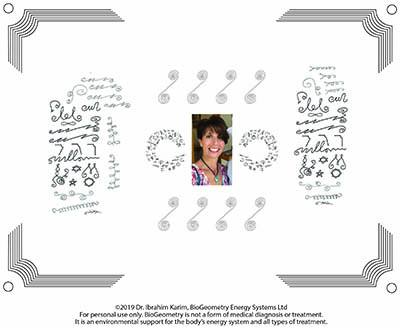 Hang this piece of paper in your house and wipe off any dust that may accumulate on it every day. If you want to reprint it once a week that would also be helpful. Please know that this immunity-boosting diagram was formulated last month specifically for this pandemic situation! I had my husband print mine out and hang it up before my recent flight home from Mexico. If you're really curious and looking for something to pass the time, you can read up on Biogeometry at the button below, but I'm warning you, it may make your brain hurt ?
Please try to remain calm, be smart, stay home, and know that this too will pass. We will all get through it, we will learn a lot, and come out on the other side better human beings. (At least I hope that last part is true.) Also, know that I have a Pranic healing protocol for Immunity & Defense that I can offer you in a remote session for $75. That was the most important thing that I did to prepare myself for my flight back home. This protocol cleans, not only all your major and minor chakras, but also cleans your lungs and liver giving you much more resilience. Just email me if you're interested.
https://mariposaenergy.co/wp-content/uploads/2020/03/immunity-booster.jpg
625
1394
mariposa
https://mariposaenergy.co/wp-content/uploads/2017/05/logo-glow-300x138.png
mariposa
2020-03-23 19:25:14
2020-06-16 14:09:00
Immunity Boosting Tips for Covid-19